Whenever a new version of iOS is released, we're excited to take a look at the new features and see all the things we can do to make TunnelBear even better. In preparation for the release, we've been working hard to make sure your Bear is ready for your iOS 12 update. With all the new features listed, we're most excited for Siri Shortcuts, which will help your Bear connect more easily than ever.
How Shortcuts work
Siri Shortcuts provide quick access to common actions that you perform inside apps. You can access them on your iPhone, or iPad, in a couple of different places:
From Search, Look Up and Lock Screen as Siri Suggestions
When talking to Siri using personalized phrases
Siri Suggestions
When you perform an action in TunnelBear, like connecting to a particular country, Siri is notified and identifies usage patterns over time. For example, if you connect to Mexico every day at lunchtime, Siri will remember that pattern and begin to suggest connecting to Mexico in your Siri Suggestions around lunchtime.
To access your Siri Suggestions from Search, go to the Home Screen on your iOS device and swipe downwards. You can use Look Up to find specific Shortcuts by typing the name of the shortcut. Siri will decide if, and when, to display a Shortcut on the Lock Screen or Search.
Personalized phrases
If you go to Siri & Search in the Settings app, you can record personalized phrases to activate a Shortcut with Siri. The list of available Shortcuts will be based on actions you've already performed in the app, so if you don't see the one you want, try doing it in TunnelBear first.
You can use any phrase you want to activate the shortcut, and this is great for quickly turning on TunnelBear without having to leave the app you're currently using.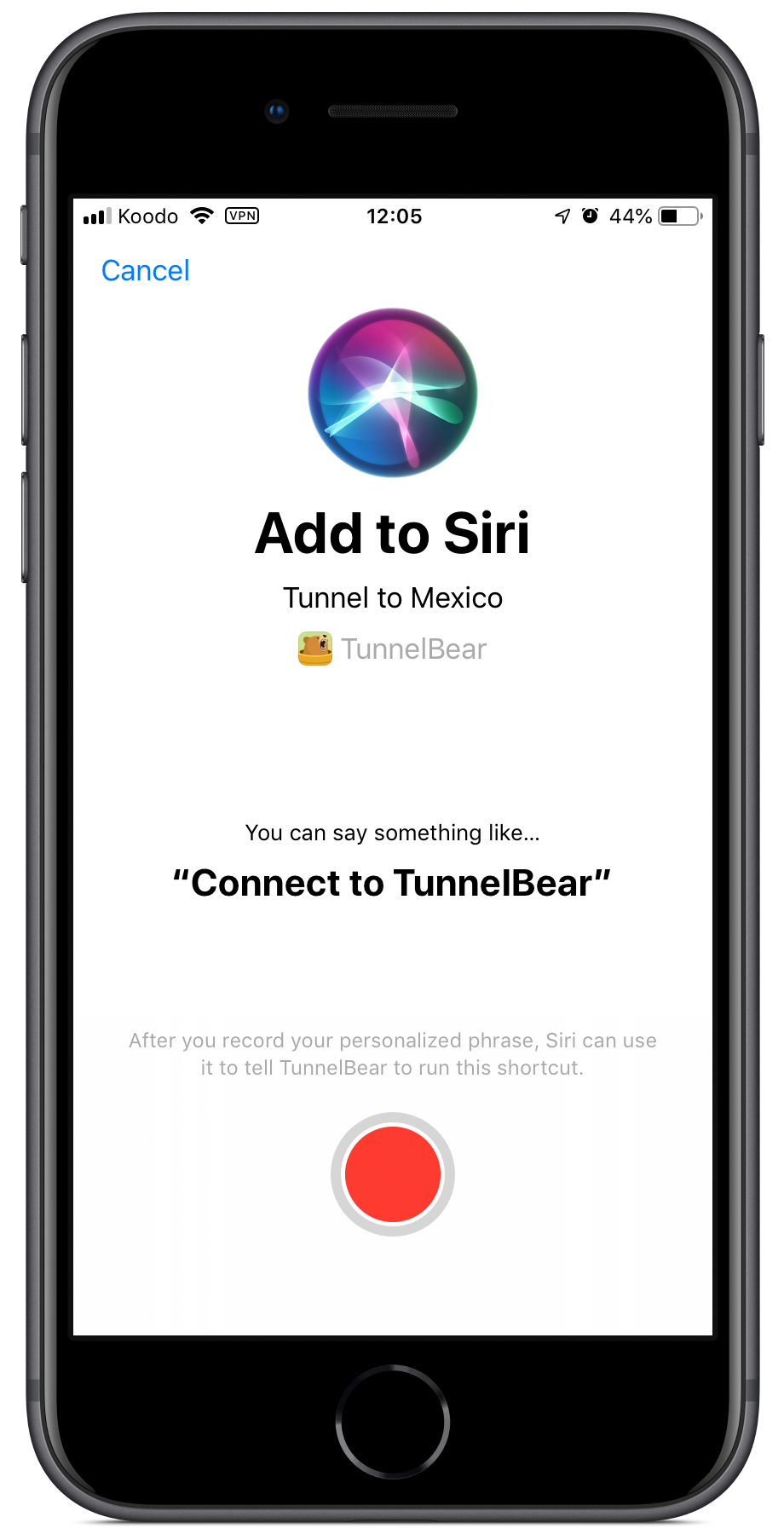 Protecting your privacy
Your privacy is always our top consideration when adding new features to TunnelBear, and rest assured, we've been very careful to ensure your privacy is protected when using Siri Shortcuts. Here are some useful things to know about Siri Shortcuts and your privacy:
All data processing for Siri Suggestions is performed locally on your device.
No information is transmitted to Apple, or TunnelBear, when using Siri Shortcuts.
From the Siri & Search section of the Settings app, you can control both where Siri Suggestions appear, and which apps are allowed to generate suggestions.
All activity history is deleted when you log out of TunnelBear. Note that the "Disconnect" shortcut is a default shortcut and is not part of your activity history.
Update your Bear
Don't forget to update your TunnelBear so you can start using Siri Shortcuts with iOS 12 today. If you have any questions about how to use TunnelBear with Siri Shortcuts, our friendly Support Bears are always here to help.