New Feature: Closest Tunnel, for the Privacy Minded Bear
Today, we're releasing a new feature called "Closest Tunnel". It's part of our continuous effort to make TunnelBear the best mammal on the Internet for private browsing.
The Closest Tunnel option is at the bottom of the country selection menu in the OSX and PC apps. Sorry iOS and Android, closest tunnels are coming soon.

How does closest tunnel help me?
For example, maybe you're one of the 400,000+ new Turkish bears who joined TunnelBear in the past week. You don't care which country you are connected to, you just want it be quick and private.
Closest Tunnel solves this problem by determining the best tunnel for you. It will make sure your data travels the shortest distance possible (also known as the lowest "ping"), to keep your web browsing snappy.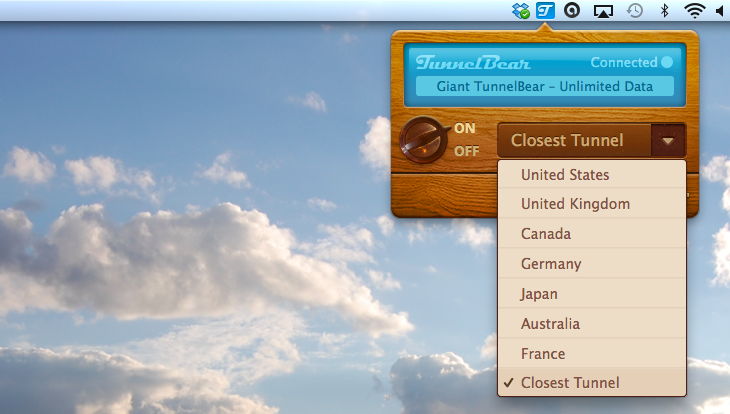 How does Closest Tunnel work?
When you select the Closest Tunnel option, and then flip the switch to "On", the app checks (or "pings") all the nearby tunnels.
The app will listen closely for the return "ping" and then connect you instantly to the first tunnel that responds. In most cases, this will be the closest tunnel to you geographically. Often the closest tunnel is also the fastest tunnel, but don't hold us to that!
Closest tunnel is a grrreat addition to TunnelBear's suite of privacy features which combines closest tunnel with vigilant mode and privacy mode to ensure your sensitive information is fully protected.
Download the latest version of tunnelBear and let us know what you think!
Keep safe and happy tunneling!