How our Fight to Outsmart Internet Censorship Started
Rodrigue Hajjar has been with TunnelBear for six years. He started as a contract developer and has since led initiatives spanning the distribution, discoverability, and connectivity of our core VPN platform. Rodrigue now sits as Director of VPN at TunnelBear. In the article below, he reflects on a significant day of his tenure with us, where he witnessed TunnelBear's eagerness to use its tech savvy to fight censorship. Most importantly, 'Rod' lays out what that means for the sleuth moving forward.

It was February 14, 2014, and our standup didn't feel the same. Ryan looked at us with an expression I didn't recognize. I began to worry: are we in financial trouble? Is someone quitting? Whatever it is, it would be the first disruption I'd witnessed at TunnelBear, and the first time I'd seen him this nervous.

He explained that Venezuela's protests escalated yet again. The country was averaging 35 protests a day, with surveillance and censorship also on the rise. Social media websites, including Twitter, were blocked, preventing Venezuelans from sharing their experience or denouncing injustices.

Finally, Ryan asked us: "Can we give free data to all Venezuelan users?"

Just a few months earlier, TunnelBear donated free data to people in Turkey, as they were going through a period where social networks were blocked. We were keen to help our allies but new to this space. And although we saw how much our contribution helped, we didn't yet know it would lead to something much bigger.

In 2014, TunnelBear was a tiny bootstrapped business with five employees including myself. I hadn't been in Canada a full year yet, and as someone who believes the opportunities we get in life today are largely dictated by the country we're born in, I was attracted to our mission of working to make the internet a safer place for everyone, no matter where they are.

Despite the infancy of our company and the financial risks associated with Ryan's ask, we decide to go for it.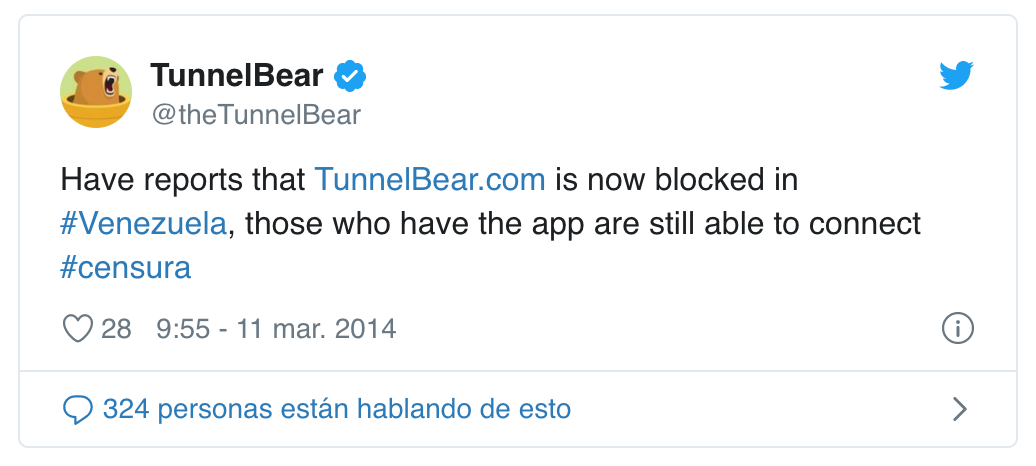 Donating bandwidth to Venezuelans was a turning point for TunnelBear. It helped solidify our mission to fight censorship and make the internet a safer place for everyone. Since that day, anti-censorship development has become a regular part of our jobs, leading to new features like "Closest Tunnel" (now "Fastest Tunnel") and "Intelli-Bear". All of these efforts allowed us to load balance and route traffic so we can better handle similar censorship events. A few notable examples include helping circumvent Turkey's Twitter ban and giving free bandwidth to Iran amid protests.

These events helped us prepare for a growing global censorship threat. We'll be announcing more anti-censorship updates in the following months, and are hiring talented individuals to join a dedicated anti-censorship team:
If you're excited by the idea of working on a dedicated anti-censorship development team, please don't hesitate to reach out. We can't wait to hear from you.