20 Hours of Crafting Taught Us a Lot About Teamwork
7 minute read
When people visit tunnelbear.com for the first time, they're usually struck by our friendly approach to explaining privacy, the clear reassurance that TunnelBear will protect their internet connection, and the sheer volume of adorable images. People will tell you that security is supposed to be serious, and use serious images, like padlocks and scary people in hoodies. We prefer fun, whimsical ideas that help take the fear out of online security, and technology in general.
It's no secret that TunnelBear is a fun place to work. Not just because fun is awesome and makes an office a place you want to go to every day, but because it helps us look at problems in a different way. Creative projects and away-days give our brains time to rest, but they also provide inspiration that you can't get from staring at a screen or locking yourself in a room to think.
Having fun is an important part of team building, and if you head over to the TunnelBear "About Us" page, not only will you meet some of our amazing Bears, you'll find our "Bearatars", the inspiration for one of our latest fun team building exercises.
Happy Halloween
Last Halloween, Rachel, SupportBear extraordinaire and professional Costumer, needed a costume for our office party. Rachel created an outstanding Corp. Bear Bearatar costume, and won our costume contest. When our co-founder, Ryan, saw his Bearatar come to life, he asked Rachel to be a full time bear head maker.
Realizing that support couldn't handle the loss of a team member for the roughly 125 work days it would take to make every bear head, Rachel came up with the idea to have two, half-day sessions so everyone could build their own. Bear Head Bonanza was born.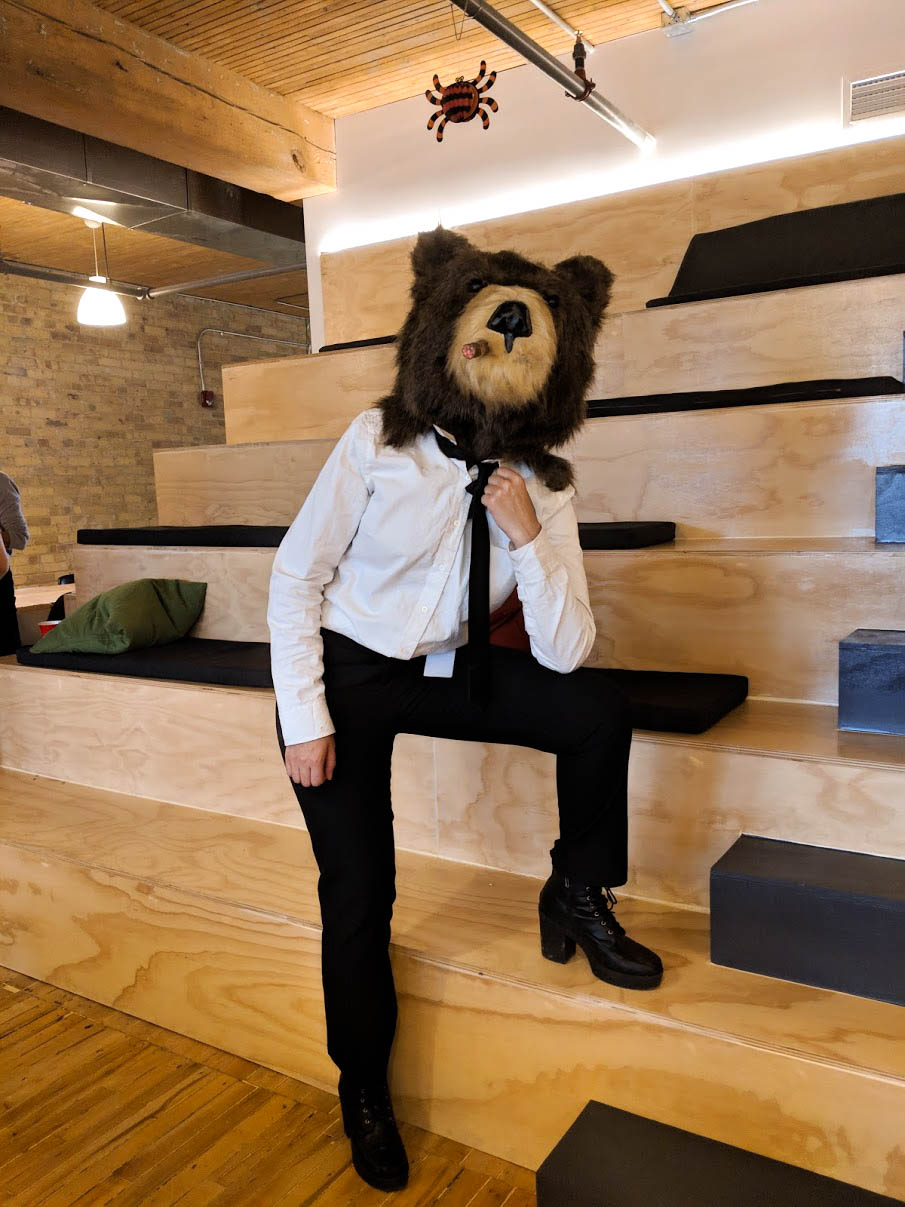 Rachel as Corp Bear
Cutting inside the lines
We were each given 15 sheets of foam with tiny, bizarre shapes printed on them. We were assured that it would all make sense eventually, and that we didn't need to be too precise when cutting out the shapes. In total, we used 600, 8.5" by 11" foam pages to create all the forms.
What should have taken an hour ended up taking two or three, as some people, like me, were paying way too much attention to detail when cutting their foam. In the spirit of teamwork, some of the faster bears helped the slower cutters out by doubling up on scissor duty.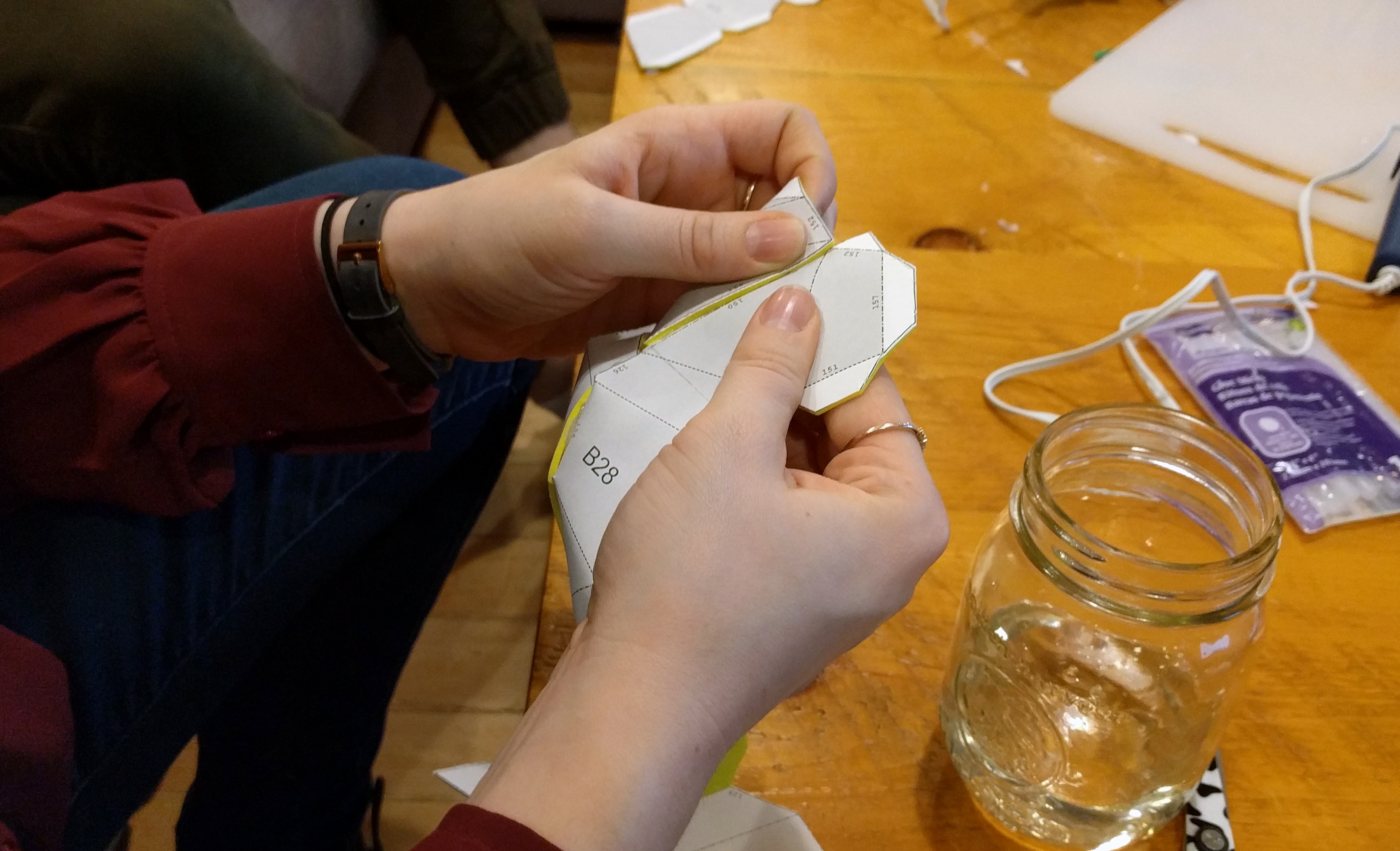 Gluing the foam together
Countless hot glue burns
With the patterns all cut out, the "fun part" started. We were broken up into pairs then given a glue gun and an outline to follow so we knew which pieces attached to which. The patterns weren't as easy to put together as we initially thought, and it didn't help that a good number of us weren't very confident in our crafting abilities.
Despite our rapidly dwindling supply of glue, and patience, 35 people managed to put their heads together in just under two hours. Some of us even had a beautiful collection of first degree burns to show off as well.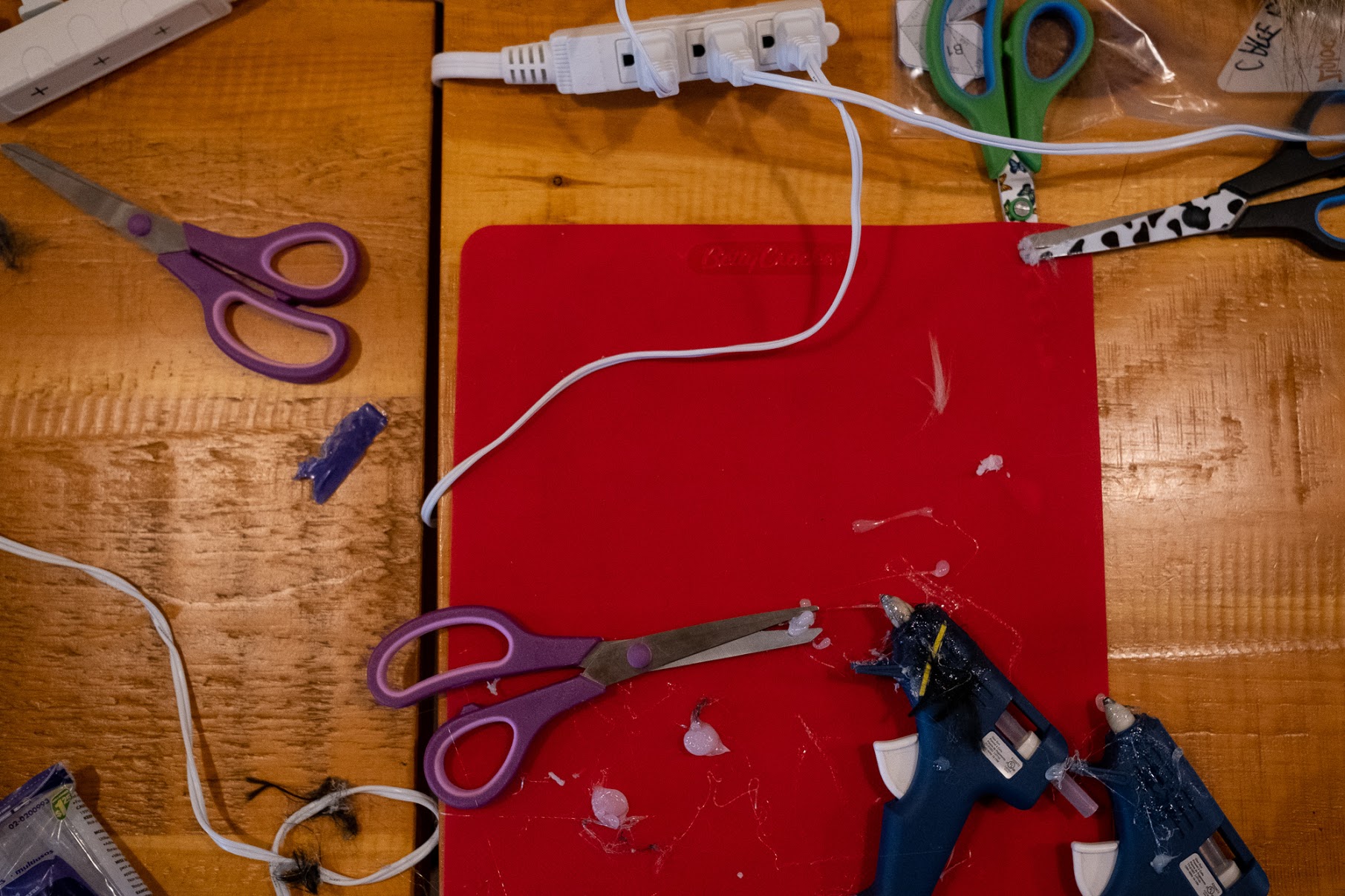 Big hot mess
Fun fur
Once we finished gluing our models, we needed to start covering them with fur. Rachel spent weeks sourcing and pricing faux-fur in different colours, lengths and piles, so we could make our heads look as close to the images as possible. In total, we used close to 22 yards of fur to create the Bears. That's roughly enough fur to create 10, full grown grizzly bears.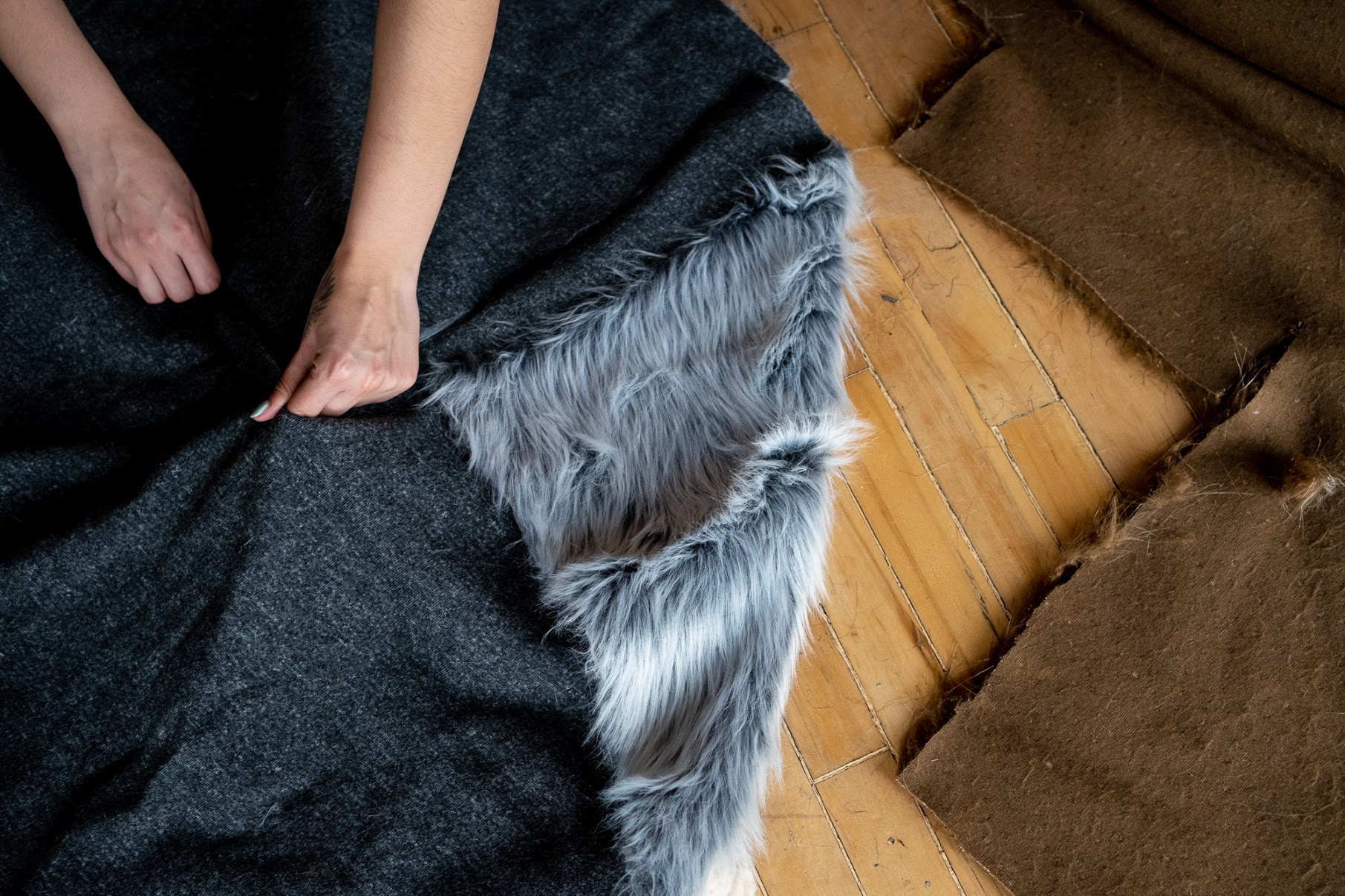 Cutting fabric
Even more hot glue burns
The first session gave most of us the time we needed to make the underlying forms, but we needed a second session to cut, shape and glue fur. Pro tip: fur and hot glue guns do not play well together. Every single gun was covered in fur within minutes of starting. Luckily, most people were gluing the same colours of fur to their bears, so the built up fur on the guns wasn't a problem. For the Bears that were different colours, it meant a lot of peeling off old glue and fur with every use. 55 bags of hot glue refills later, our lunch tables were a literal hot mess.
Fresh burns aside, it was a great experience. Seeing the Bearatars come to life was really exciting and a great team building experience. Most of the heads were finished by the end of the second session, but still needed small personal touches to set them apart from one another, like Shark Bear here.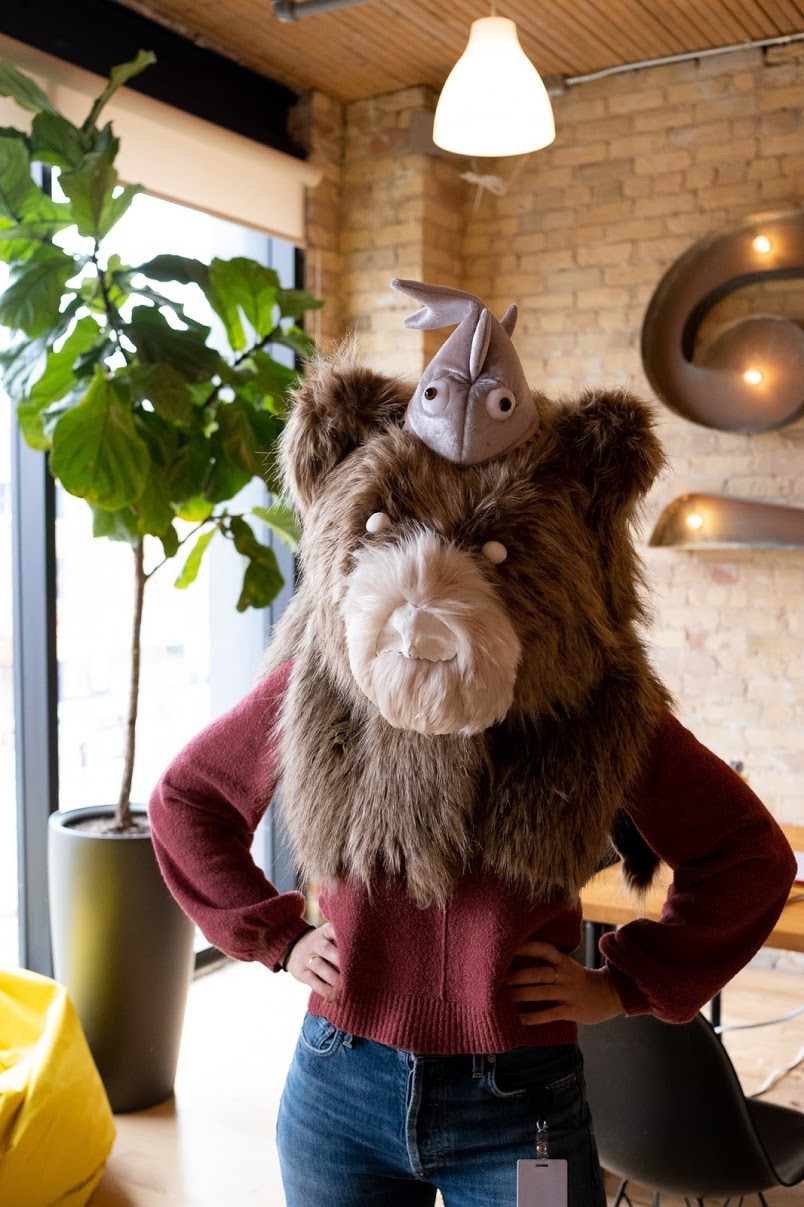 Shark Bear is almost done!
A sleuth that plays together, stays together
Creating a fun workspace takes some of the stress out of solving difficult problems. Fun helps drive new features. Fun gives people time to step back and look at their work with a new set of eyes. Most of all, fun is just plain fun and makes coming to work a more pleasant experience.
Bear Head Bonanza was a labour of love that Rachel put together to make everyone feel like they could make something with their own two hands. Even if they had never crafted before, Rachel took steps to make sure we all felt like we could accomplish the task a-head of us, while encouraging us to work together and solve problems as they appeared.
Be sure to keep an eye on our Twitter and Instagram for Rachel's "Meet the Bears" posts so you can see how the heads turned out, and learn a little more about what it's like to work at TunnelBear.
Happy tunneling,